The Sumners Hotel
Fulwood became a suburb of Preston in the 1920s as the town expanded north of the Ribble. Prior to that its main claim to fame was that the Crown owned much of the land and built a large army barracks for artillery, cavalry and infantry on the site of the civil war Battle of Preston (17th August 1648), just north of Watling Street Road (which was diverted south to make room). Previously the land had been used for horse racing. There was also the very large Preston Union Workhouse built on the same road in the 1860s. Gradually Fulwood became more occupied, mainly by prosperous households and many second homes, and on June 7th 1904 it was connected by electric tram service to the city centre. In 1974 it was officially absorbed into Preston.
Shortly after the barracks were built between 1842 and 1848 the only building on the opposite side of Watling Street Road was the Prince Albert Inn (also known as the Prince Albert Hotel), so one assumes it had an ample supply of military customers.
This is the entrance to Fulwood Barracks, at the end of a short drive opposite the Prince Albert: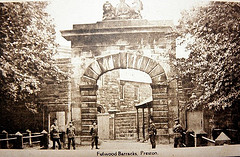 Even by 1892 there was only one local competitor, the Royal Garrison Hotel. From about 1860 to 1897 the Prince Albert was owned by William Sumner, son of a farmer who was born about 1827 in Lancashire. In 1861 he was described as victualler, in 1871 as innkeeper and landowner, in 1881 he was a "publican, brewer, farmer and army contractor". In 1869 one of his horses won the thoroughbred stallion challenge cup (worth 20 guineas) at the North Lancashire Agricultural Show. He had a wife, Jane née Curl who he married in Preston in 1859, and at least two sons and two daughters. Jane's mother Peggy Curl held the licence at the Prince Albert from 1857 to 1866, she was the widow of a Scottish innkeeper and bread baker.
In 1897 legal action was being considered against William Sumner because his brewing activities were polluting the nearby Eaves Brook. However, the action was deferred as he claimed that he had sold his licensed property. And indeed in the 1901 census the hotel was recorded as being owned by Edward Milward Herling (1870-1939) - but was now called the Sumner Hotel. Edward was an older brother of George Milward Herling who married Mary Jane Shaw in 1896. Edward married Elizabeth Berry (born 1868 in Chipping, died 1916 in Preston) in 1898 in Clitheroe and they had two children, Edward John Milward, born 1900, died 1959 and George, born 1903, died 1917, both in Preston. It seems likely that William Sumner sold the business when his wife Jane died in 1897. However, a William Sumner was still Chairman of Sumner's Brewery Limited when it was wound up in October 1915, although that William might have been the son who married Clara Heppenstall.
Below is the original Sumners Hotel building not long before demolition and road widening in the mid-1980s. It appears to have been extended to the left, probably more than once, but the original structure dated from 1848. The replacement building was at the back, the row of houses to the left used as a car dealership was built much later than the original hotel. Part of the new building is visible at the extreme right of the picture.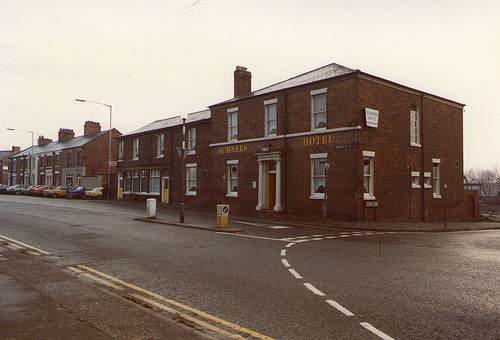 Below you can see the back of the old building (on the left) and the new one nearing completion: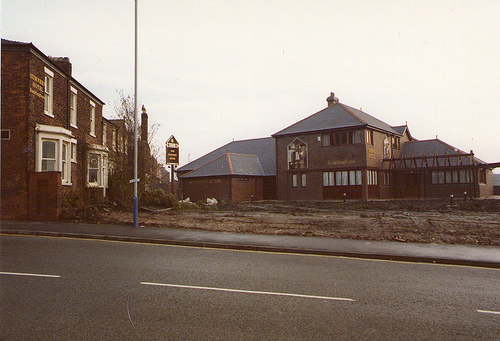 It is not known how Edward, born in India, came to own the hotel. In 1891 at age 21 he worked there as a grocery assistant, one of at least ten staff. By 1901 William Sumner and his family no longer lived in the hotel, the entire family had relocated to 65 Victoria Road, Fulwood (a completely new housing development), William's wife had died in 1897 and he had retired. His son William Sumner was living with his father aged 34 and had taken on the army contracting aspect of his father's business.
On January 2nd 1901 Edward Hurling (Herling) of the Prince Albert Hotel was prosecuted, along with many of the publicans in the area, for supplying arsenic in beer. It seems that the arsenic came from the glucose that was purchased as part of beer production. So the name change to Sumners clearly came soon after, as it is listed with both names in the April 1901 census.
Another of William Sumner's sons, John Edgar Sumner, born about 1878, died at "The Croft", Sharoe Green Lane, Preston on 10th June 1953 - it was his brother William's address in the telephone book in 1922/9 and the house still existed in the 1950's. It was a substantial property close to Preston Golf Course but today it has gone, replaced by multiple houses and roads. One of the people acting for his estate was Edward Herling's son, also called Edward John Milward Herling. Sharoe Green Lane was, by coincidence, the same road where Mary Jane Shaw and her second husband Robert Hargreaves lived after she retired from her hotel in the late 1920s, their terraced house is a mile or two south of The Croft and still stands.
More than two years after he died, in December 1956, it was declared that John Edgar Sumner had died intestate. Further information was published to help find his relatives. No wife or children were mentioned so John Edgar was probably unmarried or divorced. (A John E Sumner married Irvina McLean in Preston in Q3 1918 and she was alive until 1962). His mother Jane died in 1897 and his father William in 1914. His paternal grandparents were Joseph Sumner and Nancy Anderton. His maternal grandparents were John Curl and Peggy Atkinson. No mention was made of his brother William Sumner, presumably he had already died.
In 1973 much of the agricultural land in the Sharoe Green area was designated to be compulsorily purchased as part of the Central Lancashire New Town (which included Preston and Fulwood). This included land next to the access road to "The Croft".
The first William Sumner's daughter, Jane, married William Butterworth Rideal, a banker on 3 October 1893 at Christ Church in Fulwood. He died in 1912 and left his estate of £356 19s 3d to Sarah Catherine Sumner, a daughter. However, Sarah died in 1919.
In the 1922/9 telephone books John Richmond was listed as the subscriber at the Sumners Hotel, the phone number then was Preston 677.
Below is a picture of an old W Sumner bottle.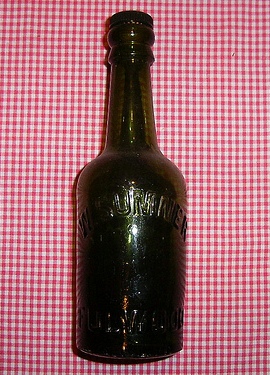 The rebuilt Sumners Hotel in Fulwood still exists and the car park is used by people visiting the Preston (North End) football ground close by. The current name of the premises is just "The Sumners" and the address is now "Sir Tom Finney Way". The original hotel site appears to have disappeared as part of road junction changes.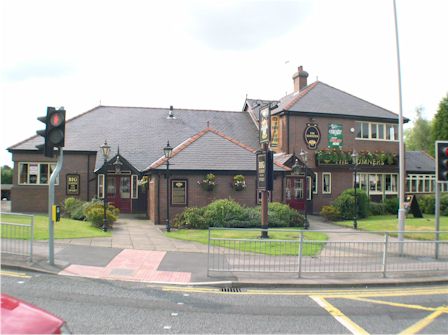 Below is an Ordnance Survey map of Fulwood from 1892. Watling Street is an old Roman road that runs east to west but you can see the loop where it was diverted south to make room for the barracks, and the path of the old road that ran through the middle of the military area. The Prince Albert Hotel is at the bottom of the map and its competitor, the Royal Garrison Hotel is to the west on the same road.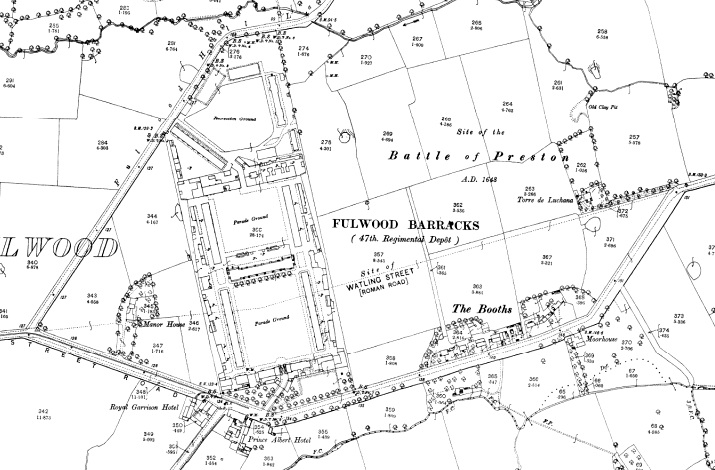 Edward JM Herling married Elizabeth Berry on the 27th October 1898 at the parish church in Chipping, Lancashire. He was 28 and manager of the Sumners Hotel and she 30, daughter of innkeeper John Berry of the Sun Inn, Chipping. Elizabeth died on 9 March 1916 and was buried at St John the Baptist, Broughton aged about 48. She was born on 24 October 1868.
Edward and Elizabeth had two sons called Edward, born 1900 and George born in 1903, died 24 Feb 1917 aged 13 years, 11 months. George was buried at St John the Baptist, Broughton.
Edward JM Herling sr. then aged 49 married again to Annie Dewhurst aged 44 at All Saints Church, Clydesdale Road, Notting Hill in West London on 2nd July 1919, after the death of his first wife. Annie lived at 13 Colville Mansions in Notting Hill and her father was declared to be a farmer. Annie Herling born about 1874 died in Preston on 17 August 1932 and is buried at St John the Baptist, Broughton. Edward died on 9th June 1939 and was buried at St John the Baptist. The mother of the original Edward JM Herling, Mary Kerr, later Herling, had a stepdaughter called Annie Dewhurst (b. 1873), the daughter of her second husband William Dewhurst - and thus Edward married his step-sister, but of course they were the offspring of different parents. A memorial to Annie was provided at St John the Baptist in Broughton in 1934 in the form of two oak tables.
Edward ("Teddy") JM Herling jr. married Ellen ("Nellie") Bracewell in Broughton St John Registry Office (Preston area) in 1950. Edward/Teddy the son died aged 59 on 19th December 1959 at the Preston North End football club ground in Deepdale (Preston lost to Chelsea 4-5 that day with Jimmy Greaves scoring all five goals for Chelsea). He left his estate valued at £17,639 12s 6d to his wife who was born on 9th December 1907 and died in Burnley on 23 February 1993. Edward/Teddy was buried at St John the Baptist in Broughton and Nellie/Ellen also. They do not appear to have had children.
Below is Broughton Lodge, Broughton, once the home of Edward JM Herling senior and junior. This picture was taken in about 2013 when the Edwardian house at 370 Garstang Road, just north of Sharoe Green Lane, was on the market. By coincidence the estate agent was called Dewhurst, it was sold for £735,000.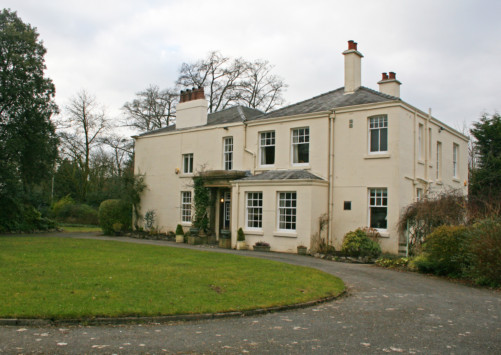 An Annie Herling born 14th December 1896 died in 1984 in Trafford. An Irene Annie Herling born 29 Nov 1900 died in August 1985 in Preston - She was almost certainly James Leslie's wife, called Lene at their marriage.
In 1925/9 EJM Herling was listed at "West Leigh", Powis Road, Ashton-on-Ribble, telephone number Ashton 164. In 1932 his listing had changed to Broughton Lodge in Broughton, telephone number 111 and it was still there in 1960 (although the then owner EJM Herling jr, born 1900 had died the previous year). Broughton Lodge would have belonged to EJM Herling senior and then passed to junior after his father died in 1939. EJM Herling senior was living at Broughton Lodge at the time of his death and his effects were valued at £18,401 10s 1d, a very large sum in those days - sufficient to buy about thirty new suburban houses. Probate was handled by Henry Fazackerley, a solicitor, Edward John Milward Herling, a retired bank cashier and John Edgar Sumner, a gentleman farmer. One of these was of course the son of the deceased EJM Herling and the other a son of the original William Sumner, both who were involved with the Sumners Hotel. Strangely, if the London Gazette is to be believed, probate and inheritance issues from the 1939 death were still being worked on in 1960 after the death of the son. However, the Gazette was wrong and they confused the two EJM Herlings.
Maude Mary Millward Herling married William Charnley at St Thomas the Apostle, Garstang, in 1888.
Mary Millward Herling married William Dewhurst at St Annes-on-Sea in 1883.
Are the oak tables each side of St John the Baptist's altar those from 1934 which are dedicated to Annie (Dewhurst) Herling?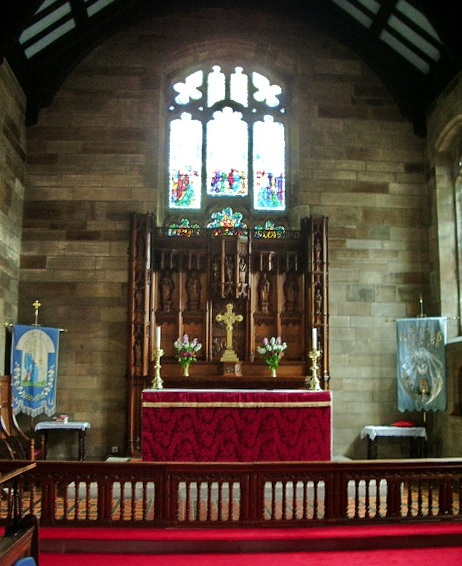 A James Melward Herling Kerr Whitecross died on 2 June 2003. He was born on 11 October 1927 and was a retired builder and decorator living in Ramsgate, Kent when he died. With those three middle names clearly there is a family connection but what ? No other records connecting him have yet been found although someone with a similar name is listed in the Australian electoral rolls living in Victoria in 1963-1977. A Mr. J M Whitecross, born in about 1928, is listed as travelling on the Orient Line ship "RMS Otranto" from London to Melbourne on 8 March 1951. His previous address was at 74 Commercial Street, Dundee and he had been recruited into the Australian Army. He served as a Private as James Melward Whitecross in the 3rd Battalion of the Royal Australian Regiment (Royal Australian Infantry Corps) from 4 July 1952 to 3 July 1953 (which included time in Korea).